Read Time:
6 Minute, 10 Second

Venue:
Inver Park
Date:
Friday, 15 September
Kick-off:
19:45 BST
Coverage:
Live coverage on Irish League Live from 19:30 BST on BBC Two NI, BBC iPlayer, the BBC Sport website and app; live text commentary and in-play clips on the BBC Sport website
Football dressing rooms can be lively places – and ours was certainly one after our crazy season opener.
Having just won the league for the first time in the club's 135-year history, the first game of our title defence ended in disastrous fashion. Four-one up with less than 15 minutes to go against Dungannon Swifts, we ship three late goals and have to settle for a 4-4 draw.
Fair play to Dungannon, it was incredible from them, but league champions should not be giving up three-goal leads like that. And we knew it.
There were a lot of harsh words said to each other at the end of the game when we got back into the dressing room, with frustrations obviously kicking in. You had Tiernan [Lynch, Larne manager], the coaching staff and the players – everyone had their own points of view. And we aired them.
When you end a match as poorly as we did, there have to be consequences, there has to be a reaction. We are all grown men and you have to be able to take a bit of criticism.
Then you go home and reflect, probably lie in bed at night and think about what else you could have done to change the game. You get up the next morning, go back into training and try to rectify it. Get it out of your system so you don't have to dwell on it and hopefully it never happens again.
'I get the best and worst of Tiernan'
Since I joined Larne, Tiernan has always said he wants the squad to be player-led. He wants players to take on a lot of control and sort things out when they need sorting out. That is what we have been trying to do over the last couple of seasons.
It's a give and take situation. You want boys to have their opinion. Sometimes Tiernan might not like it and he will argue his point but he will go away and think about it.
The coaching staff are the same – if you want to put something out there they will take it on board. They may not agree with you all the time – and obviously they get paid to make decisions, we don't – but they do ask for the players' opinions and it is refreshing in that way.
As captain and manager, Tiernan and I have a great relationship. I've known him since I was 15 and he took me from Ardoyne Youth Club to play for Cliftonville Under 18s.
We have obviously rekindled that relationship at Larne. I get the hard end of Tiernan sometimes and then other times he lets me away with stuff. He is like a father. The boys all have a laugh, saying Tiernan is my dad and Seamus [Tiernan's brother and assistant manager] is my uncle. I get the good and bad of him.
The players' give me plenty of stick about it. If something goes wrong I tend to feel the brunt of it. That is just the way it is but we have a brilliant relationship. We have banter together when the time is right and it is like that with all of the staff.
We are a very tight-knit club, with everyone together, from the cleaners to the secretary, we all have a good laugh with each other.
'Hunger is still there, I want to go down in history'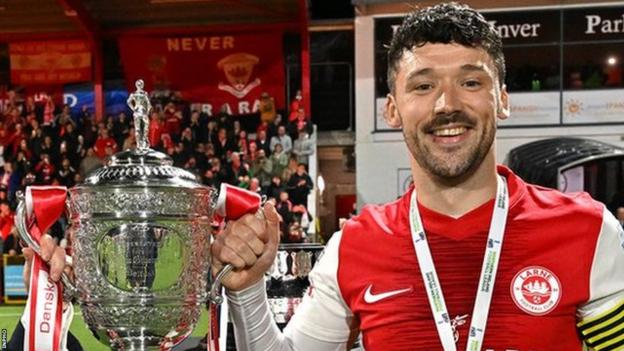 People have asked me does it feel any different being league champions but I don't think it does. Tiernan will say that other teams will up their game against us but I think that has already been happening for a long time.
Because of the funding we have had and the investment from Kenny, I think there has been an attitude of 'who do they think they are?' and 'you're not going to get one up on us'. That comes with the territory of getting the money from Kenny.
And, listen, if I was in the other teams' shoes, I would be doing exactly the same thing. There is no malice in it, they are trying to get their players pumped up and trying to get them ready. When I was at Cliftonville we looked at Linfield in the same way, we wanted to show them weren't afraid of them and that we could take them on.
Winning the league was tough and we know defending it will be even tougher but Linfield have dealt with that for years and we now have to take on the mantle.
One thing I'm certain about is that the hunger is still there. New players have come in and I want to win as many trophies as I can before I stop playing. I'm the captain of the club, I want to go down in history as the most decorated captain in the club's history.
I want all of that. I want my kids to see how good a player I am, I want them to be able to look back in years to come and see a lot of medals that their dad has won. The hunger will always be there. When the hunger dies, that is when I'll stop playing football.
I took a lot of criticism when I left Cliftonville to join Larne when they were in the Championship. I had to put up with a lot but getting our hands on the trophy last season made everything worthwhile. Kenny talks about being on a journey, asking if you are going to be with us the whole way. That's me. I want to be with this club the whole way and to keep seeing what more we can do.
Being champions won't matter against Linfield
Friday night's match against Linfield is huge, it always is when you play them, but then any match against a top six club is huge.
The fact that we are playing them as league champions won't make any difference at all. It probably felt different when they did the guard of honour for us as champions at the end of last season but we have no given right to go and do it again.
It is another challenge for us. Linfield are usually there or thereabouts and you often find that if you are above them then you are going to be close to the title. We know what we have got to do on Friday night but they will be saying the same thing. They'll be coming to Inver to try to get something.
Even last week in the Co Antrim Shield, there were changes in both teams but both clubs and both sets of fans really wanted to win. I know they will say they didn't after they got beat, but both sets of fans were well up for that match. It will be the same on Friday night.
Tomas Cosgrove was speaking to BBC Sport NI's Mark Sterling